How it All Started...
The Gem Garden began in 1998 as a way to supplement our family's income while raising my two young children at home. Craft shows and house parties were the main selling avenue of our classic sterling silver jewelry. In 2005 my two daughters, Rachel and Natalie entered the world of competitive gymnastics changing my business forever. Throughout their training, I noticed that at times their hard work and dedication to gymnastics often went unrecognized. Wanting a way to encourage and foster their drive in gymnastics, I created The Gem Garden Sports Collection. It was a simple, yet fun and innovative way to acknowledge their extraordinary achievements and provide incentive to persevere.
The Gem Garden sports collection is a great way for parents or coaches to motivate and inspire athletes to succeed, while providing owners a valuable avenue to highlight and advertise their business. It's main focus is gymnastics but almost every item in the collection can be tailored to any sport, sorority, organization or business.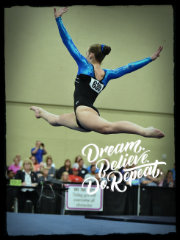 The Gem Garden believes in creating our products in the USA. That's why we make every effort to get our parts and supplies from local and USA based companies whenever possible. Just like the athletes we are recognizing, we too put in a lot of hard work to ensure that every item you receive meets the same high standards that those athletes strive to achieve.
As a parent of two elite athletes, I know how important my support and encouragement was to my girls during their competitive careers in gymnastics. The Gem Garden carries on that tradition and gives me an opportunity to encourage other young athletes to...
DREAM... BELIEVE... ACHIEVE!